Everywhere you turn, it seems like we are hearing about the differences in generations. It is almost certain that if I attend an educational conference, there will be at least one session about how to work with the next generation or how the next generation is different from all the other generations. These conversations are usually targeted toward the workplace, but I don't hear many targeted toward the family. However, the differences apply across industries and families alike. Don't we desire to better communicate at home and passing on education and skills in the home as much as in the workplace?
A few years ago, I came across Strangers In Paradise – How Families Adapt to Wealth Across Generations by Dr. James Grubman. Dr Grubman is a psychologist who works with individuals with wealth. Through his research, he has addressed the question of how families can share education and skills and better equip the next generation to inherit and sustain wealth. It is an interesting read that compares migrating to the "Land of Wealth" to migrating to a new country. He essentially divides the "Land of Wealth" into two groups: immigrants and natives.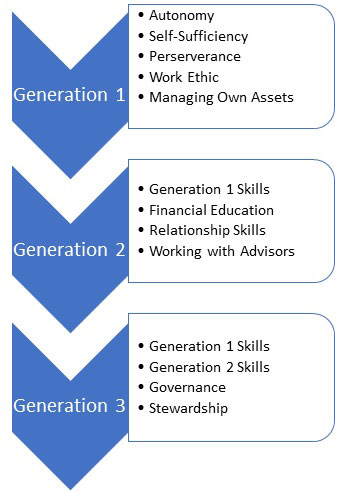 Immigrants are those who create the wealth. They often come from humble beginnings and build their wealth by taking risks, like starting a business. Immigrants make up 80% of the inhabitants of the "Land of Wealth". The remaining 20% are the natives. They are second and later generations who have grown up with more opportunities and experiences because of the family's wealth. Many times, their parents have wanted them to have all the things they couldn't have as a child. Natives are usually less experienced with risk and may not understand the amount of hard work that was necessary for the previous generation to generate the wealth.
As you may expect, each generation has its own struggles. The immigrants may struggle with trusting the next generation to carry on the wealth (or family business). They may also struggle with accepting and using the wealth, remembering the days before their success as hard and financially tight. This non-acceptance may lead to poor decisions and a tendency to give away wealth to others too easily. On the other hand, natives can struggle with a sense of entitlement due to a lack of understanding about the hard work necessary to create it. They may overspend or not consider the financial consequences of their decisions. Some may even feel pressured to carry on the previous generation's values and desires because they do not think the wealth belongs to them.
Dr. Grubman argues that there are different skill sets that are necessary at each generation level in order for family wealth to continue. As you can see from the chart below, the skills needed grow with each new generation. This is why it is so hard to keep family wealth for the long term.
Adapted from Strangers in Paradise by James Grubman
Just like an immigrant to a new country, immigrants to wealth primarily transition into the "Land of Wealth" in one of three ways.
Avoidance
Some try to avoid the wealth and deny they are wealthy. They continue to live as they were before they earned their wealth, fearing the loss of relationships or judgements from their old circle of acquaintances. It is important to note that remaining frugal is not avoidance. Avoidance is an inability to accept the wealth or a strong desire to ensure others do not know about the wealth.
Assimilation
Some immigrants embrace wealth to its fullest. They may see it as a way to create happiness. While avoiders may not want to leave their old circles, assimilators may completely leave their old circles to create new circles with those who also have wealth. They tend to raise their own and their children's standard of living drastically in an effort to fit into their new land and may do so at their own detriment. Some assimilators become more philanthropic, but may do so to appear wealthy, not necessarily because they feel a strong connection or desire to do good.
Integration
The last group of immigrants takes a more balanced approach and integrate their old and new relationships, communities, and values. They may look to their wealth to help them create new opportunities and experiences, but also remember the importance of saving and giving for purpose. They make a point to teach their children about their past while also giving them the opportunity to enjoy and learn from their new life of wealth. Integrators tend to be more adaptable.
Dr. Grubman further suggests that in order to allow for integration and to pass along and teach the skills needed at each generation, it is best to introduce the concept of family capital. He divides family capital into four subgroups. Human capital includes the values and personal attributes each individual brings to the family. Intellectual capital is the education and skills each member can provide. Social capital includes the family's connections, community involvement, spiritual capital and philanthropy. Financial capital is the wealth and stewardship of the family.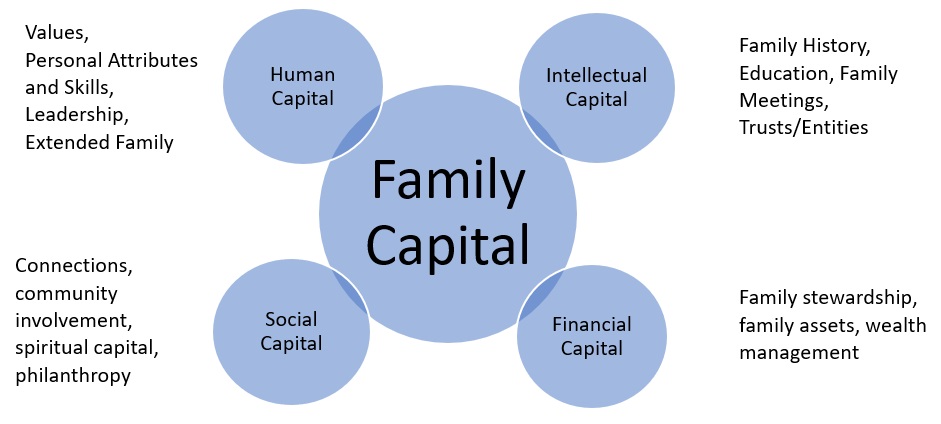 By identifying the family's capital, the family is better equipped to use the skills of each individual member for the betterment of the family unit and to recognize areas that may need improvement. Some examples of questions that can be asked to help facilitate a family discussion around capital includes:
Human Capital

What are the individual attributes of each family member, and how does the family use and share the skills of individuals within the family?
How can the family enhance members' skills?

Intellectual Capital

What are the family's core values and mission?
How is the family using each member's education?

Social Capital

What/Who are the family's connections?
What are the family's philanthropic goals and how can each individual contribute to the goals?

Financial Capital

How can the financial capital be used to address the human, intellectual, and social capital?
How will stewardship be addressed?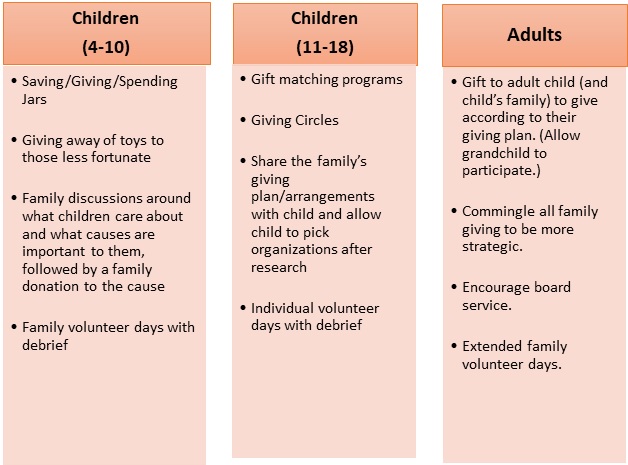 Philanthropy is an excellent way to help address some of the questions above and to begin to build the skills that generation 2 and 3 need in order to inherit and pass on family wealth. For example, in order to begin to build human capital at an early age, parents could encourage their children to use their interests and abilities to volunteer or to look for volunteer opportunities that will enhance a child's skills. Encouraging children to assist in determining the family's giving goals, identifying which nonprofits the family should support, and what amount of support to give are ways to address the family's capital while building leadership, financial, and relationship skills.
Regardless of your wealth level, improving your children's and grandchildren's financial and philanthropic literacy is important. We invite you to contact us if you are interested in learning more about ways to implement Dr. Grubman's research with your own family.
In the meantime, here are some great, age-appropriate examples of using philanthropy to build your children's skills that you can put into practice now: